Aids and Adaptations
---
Following a thorough assessment of an individual Liverpool OT can recommend and provide specialist aids and adaptations to make tasks of daily living easier.
Aids
Individuals who have difficulties performing activities of daily living can benefit from the provision of specialist equipment to promote their independence. This equipment can be to help with numerous activities such as:
Transferring from bed to chair / chair to bed
Washing and dressing
Positioning
Personal Care
Cooking
Cleaning
Equipment can be prescribed and fitted following your initial assessment. Further treatment sessions can be used to teach individuals how to use devices safely and correctly. Individuals can be monitored and reviewed as necessary.
Adaptations
Liverpool OT also complete assessments and provide recommendations regarding major adaptations to allow individuals to be more independent or assist with activities of daily living, such as; level-access showers, stairlifts, through floor lifts etc. On completion of the assessment a recommendations report can be provided. Liverpool OT can also provide relevant information regarding eligibility for disabled facilities grants to contribute towards the cost of the adaptation.
Hire
Liverpool OT also provide some individuals with the option of hiring equipment for short term use. Equipment that can be hired includes: wheelchairs, shower chairs, commodes and hoists.
Please contact us or call 0151 558 0022 to see how we can help.
Back to Top
---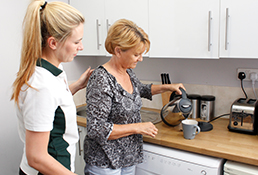 Arrange an Appointment
We also offer free telephone consultations to help you determine if occupational therapy is for you.
Get in Touch
We are happy to answer any questions you have. Call us on 0151 558 0022 or email: office@liverpoolot.co.uk
Contact Form
We are always happy to anwser your questions. Just fill in the form below and we will be in touch.