Home Visits
---
Our specialised occupational therapists can visit you in the comfort of your own home, offering assessment or treatment. Assessments at home are invaluable because they give the occupational therapist a true picture of your environment and how you interact with it.
If you are having problems getting around the home and carrying out activities of daily living an occupational therapist can assess potential risks, falling hazards, transfers, mobility, and any difficulties with everyday tasks such as preparing meals and getting dressed.
Using the information gained on a home visit an occupational therapist can offer advice regarding any equipment, home adaptations, and occupational therapy treatment that would improve quality of life, reduce risks, and maintain your independence.
To book an appointment please call 0151 558 0022 or email us at office@liverpoolot.co.uk
Back to Top
---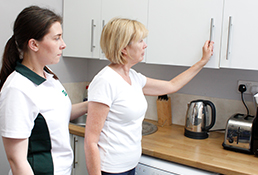 Arrange an Appointment
We also offer free telephone consultations to help you determine if occupational therapy is for you.
Get in Touch
We are happy to answer any questions you have. Call us on 0151 558 0022 or email: office@liverpoolot.co.uk
Contact Form
We are always happy to anwser your questions. Just fill in the form below and we will be in touch.